Okay. I've put my mind to it, and I'm going to do it.
I'm going to knit my first pair of socks.
I found
this pattern
and thought it would be perfect.
I think after 11 years of knitting, it just might be time to try.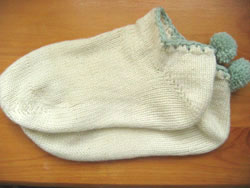 Also, I'm throwing a Potluck Dinner Party House Show on March 8th @
The Green Shutters
(my house), so if anyone is in Mansfield please stop down and see
Accordions
, and some other great local acts.
Currently Knitting:
that GD coif, until I start these sweet little socks.
Currently Hearing:
Jens Lekman
Currently Loving:
procrastinating